As we are fast approaching warmer weather season, many people are starting to think about kitting out their garden with all of the things that are needed for a brilliant summer with family and friends.
As we all know, British weather can be very unreliable and we often find ourselves washed out for the summer. Because of this, you might want to look into gazebos. Gazebos come in many different styles and provide the perfect shelter for the wetter days and also shade for heat waves.
Heavy duty pop up gazebos with sides are one of the best options that you can buy, if you want something that is long lasting and reliable. In order to choose the best one for your needs, you will need to shop around.
To save you some time, we have chosen to test and review some of our favourite pop up gazebos. Please read on below to see if any of them are suitable for you.
1. Outsunny 6m x 3m Steel Pop-Up Gazebo – The Best Choice
Features: Oxford Polyester – PVC Coating – Steel Frame – Storage Bag Included – Weather Resistant – Side Curtains & Panels – 19′ 8 7/32" W x 9′ 10 1/8" D – 27kg
Pros:
Excellent value for money.
Very sturdy frame.
Weather and UV resistant material.
Very durable material.
Cons:
Assembly is a little difficult with just one person.
Colour might not be to everyone's tastes.
The Review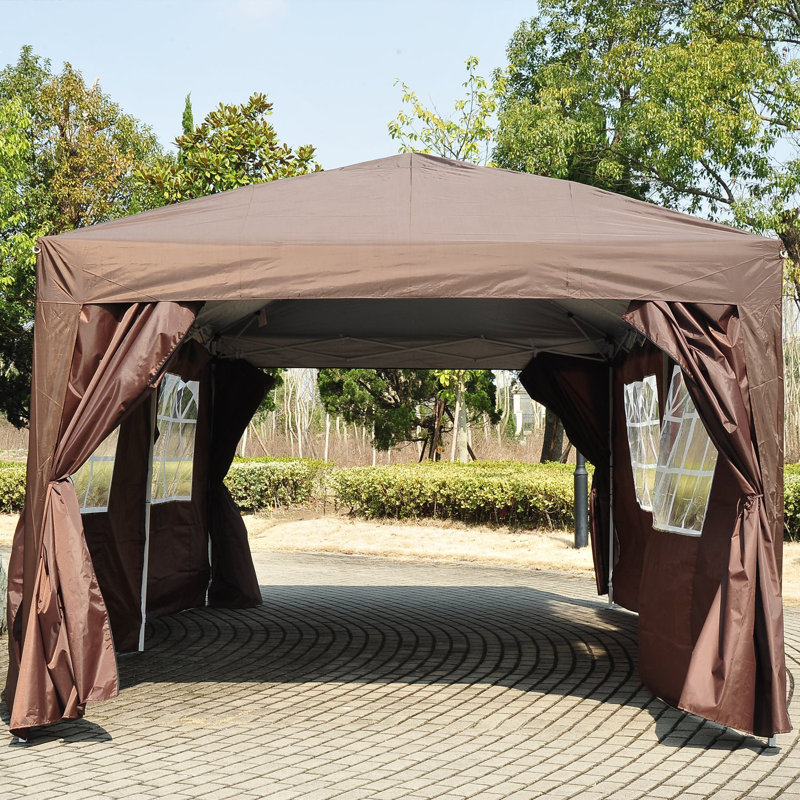 We took a look at several different pop up gazebos and out of all of the models that we tested, this one definitely seemed like the most heavy duty. The Oxford polyester material feels very robust and one of the things that we liked is that it is not only weather resistant but also UV resistant so it is perfect for those summer days.
Starting off with the assembly of this gazebo, we were actually quite surprised with how easy the process was. The instructions provided were very concise and it didn't take us very long to get it all put together. One thing that is worth noting is that it is a good idea to have two people assemble it for speed purposes.
The frame itself is made from painted steel and feels very strong. Placing the canopy over the frame was a lot easier than anticipated and it all felt very secure. The sides and roof are great at keeping the elements at bay and the whole gazebo feels like it has been built to last.
The only negative that we could possibly think of is that the colour may not be to everyone's tastes. It comes in a brown colour which does look nice, but it would be better if there were other options. Other than that, this is a fantastic option for anyone looking for heavy duty pop up gazebos with sides and we highly recommend it.
2. Lynton Garden Lawrence 3m x 3m Stainless Steel Pop-Up Gazebo with Sidewalls
Features: 600D Oxford Canopy – Silver Finish Steel Frame – 99% UV Protection – Carrying Bag – 2 Windows – Multiple Colours – 9′ 10" W x 9′ 10" D x 11′ 2" H
Pros:
High quality 600D Oxford canopy material.
Good UV protection.
Solid steel frame.
Cons:
Could be more weather resistant.
Assembly instructions could be a little clearer.
The Review
Next on our list of heavy duty pop up gazebos with sides is this model from Lynton Garden. For the purposes of our review we chose to test the green model as we felt that this was the nicest design, but there are other colours available too.
In terms of assembly, we did encounter a few difficulties. We found that the instructions provided were a little confusing and could have been a little clearer. However, after playing around with the frame a little we were able to get everything assembled properly.
The material of this gazebo is a high-quality 600D polyester canopy which is very durable. It offers 99% UV protection, but we did feel that it could be a little more weather resistant. Other than that, the material is very nice indeed. We also really liked the silver finish steel frame.
The frame feels very well put together and it has certainly been designed to last. The windows on the side panels are a very nice touch and the sides can also be zipped up for extra protection from the elements. Overall, we really liked this design and felt that it offered very good value for money.
3. Lynton Garden Jarrow 3m x 3m Pop Up Gazebo
Features: 190g Waterproof PU Cover – PVC Coated – Foldable Aluminium Frame – Carry Bag – Side Window – 9′ 10 1/8" W x 9′ 10 1/8" D x 9′ 2 7/32" H
Pros:
Foldable so very easy to use.
Incredibly simple assembly process.
Good protection from the elements.
Cons:
The material could be a little stronger.
There is only one side panel.
The Review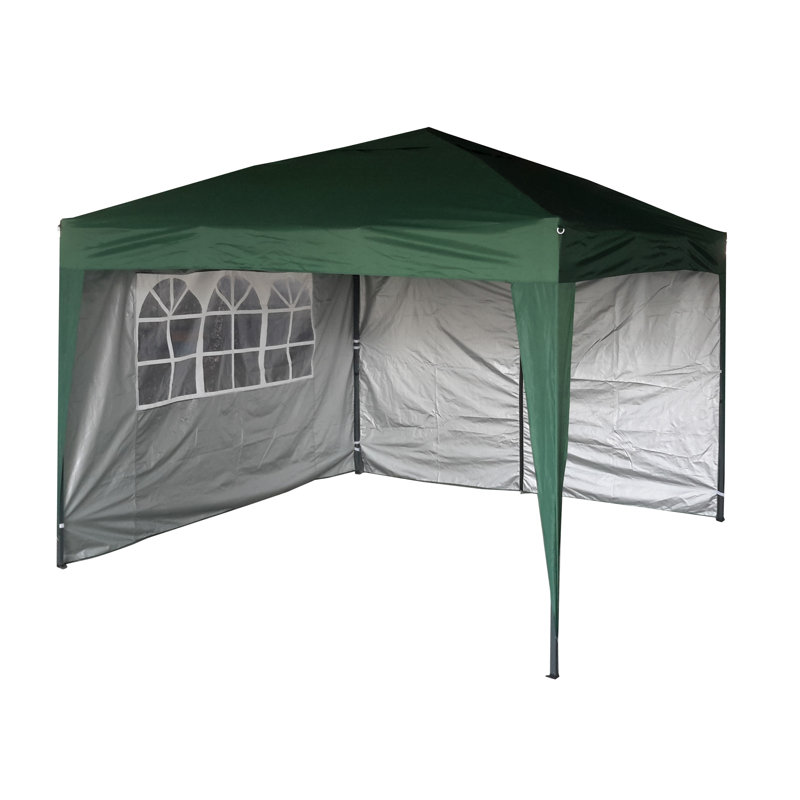 Having been impressed with the previous Lynton Garden gazebo that we tested, we decided that we would like to take a closer look at a lower end model from them and chose the Jarrow model. We have to say that we were actually more impressed than we thought we would be.
Assembly is very easy with this gazebo. The frame itself is foldable and very easy to pop up so that it is ready to use. The steel frame feels very robust and has been built to last. The only thing that we didn't really like about the design is that there is only one side panel.
We found that this made protection from the elements a little more difficult. We also felt that the material of the gazebo could have been a little stronger. However, if you are looking for an affordable model that can be used time and time again then this one from Lynton Garden should definitely be considered.
Hopefully you now have a good idea of the types of heavy duty pop up gazebos with sides that are available at the moment and will be able to choose the right one for you.