There are so many different types of furniture that can be added to complete the decor of your living room. There are hundreds of thousands of beautiful designs to choose from and you can really make the room your own and allow your personality to shine through.
One of the pieces of furniture that you should definitely consider is a side table. There are all kinds of different types to consider. In order to make things a little easier for you, we have tested and reviewed our top three best side tables for your living room. Please read on below for our verdicts.
1. Safavieh Side Table – The Best Choice
Features: Contemporary Design – MDF Material – White Table Top – 49.78cm H x 49cm W x 49cm D – 8.95kg
Pros:
Beautiful contemporary design that looks great in the modern living room.
Very easy to assemble.
Very easy to clean.
Great value for money.
Cons:
Can feel a little wobbly if the screws are too loose.
The Review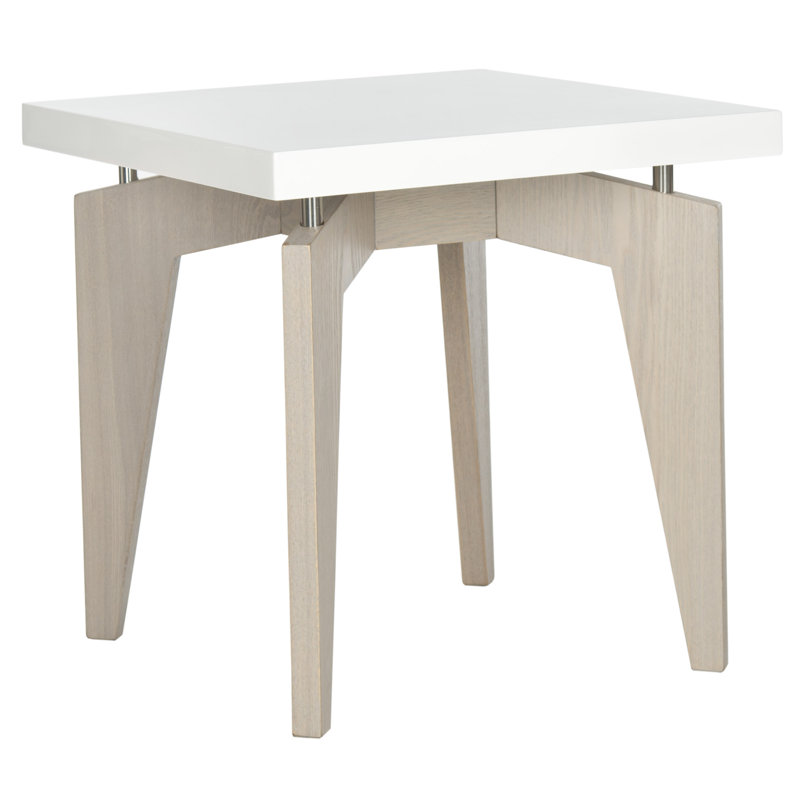 The top spot on our list goes to this side table from Safavieh. This contemporary design is unlike anything we had seen before; it certainly stands out but in a very good way. One thing that we really liked was the wooden legs. They really complete the overall design.
Made from high-quality MDF, this side table looks fantastic in the modern living room. It has a white table top which we found very easy to clean after each use. In terms of assembling the table, we had no trouble at all. The instructions were very clear and it took minimal time and effort.
Another thing that surprised us with this side table is the value for money. For a table of this type, we would have expected it to cost much more. It is small enough to be used in the living room without taking up any extra space and doesn't stick out.
There was one issue that we encountered, but this is not a reflection of the table itself. Once we had assembled it, we noticed that it felt a little wobbly. However, after closer inspection, we realised that some of the screws needed a little tightening. Once we had done this, it was incredibly sturdy.
Overall, this is a fantastic little side table and one that we would highly recommend if you are looking for a piece of furniture to complete the look in your living room.
2. Everly Quinn Andromeda Round Side Table
Features: Round Design – Wooden Frame – Laminate Table Top – 61cm H x 41cm W x 41cm D – 6kg
Pros:
Simple yet elegant design.
Compact so doesn't take up too much space.
Very easy to keep clean.
Great value for money.
Cons:
The laminate top doesn't feel very strong.
The Review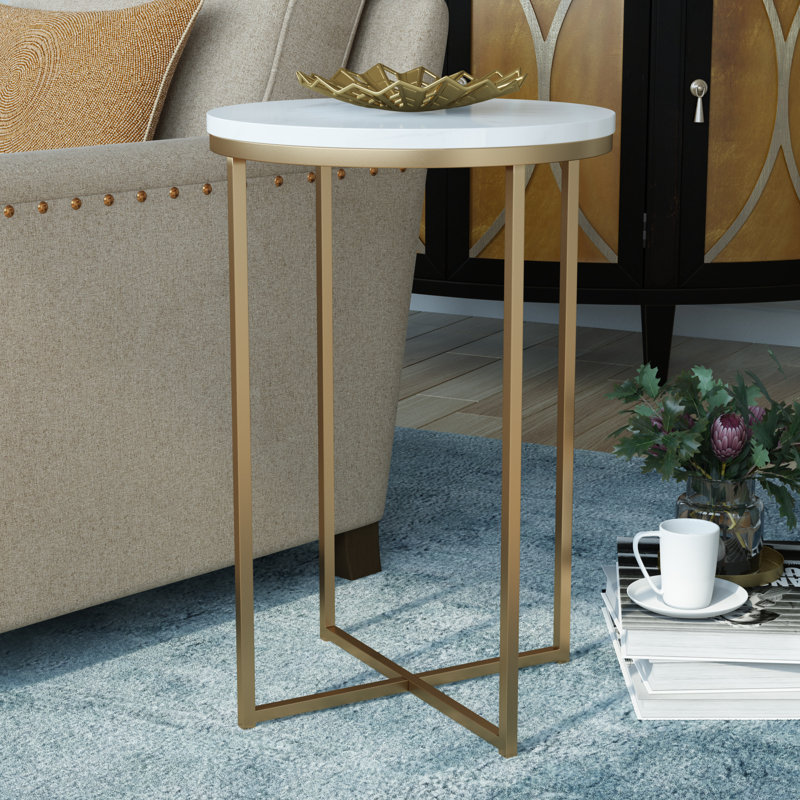 After viewing our top choice, we decided that we would like to try out a side table that was a little more basic and more affordable, so we chose to take a closer look at the Andromeda Round Side Table by Everly Quinn. The first thing that we really liked about this one is how compact it is.
It is designed to be slim and tall, rather than being bulky. We found that it fit perfectly next to an armchair and really completed the look. We also liked how versatile the design is; it looks great in a traditional living room as well as a modern one.
With a sturdy wooden frame and a lovely laminate table top, this round side table is basic yet very nice to look at. In terms of assembly, this one took us under an hour to put together and we had no issues at all.
The only issue that we did have with this one is that it feels like the tabletop itself could perhaps be a little stronger. It doesn't feel like it would support anything very heavy, so if you are looking for something that you can use to put a heavy lamp on then this might not be the best option for you.
However, for an affordable, compact table that looks great and makes the perfect accompaniment to your armchair, this is a great option.
1. Relax Days Kidney Bean Living Room Side Table
Features: Kidney Bean Shape – Natural Wood Frame – Kidney Bean Shaped Table Top – Grey – 40cm H x 70cm W x 40cm D – 3.1kg
Pros:
Unique design that looks great in the contemporary living room.
Fairly affordable living room side table.
Very easy to put together.
Cons:
The design isn't ideal for a traditional living room.
It is quite expensive.
The Review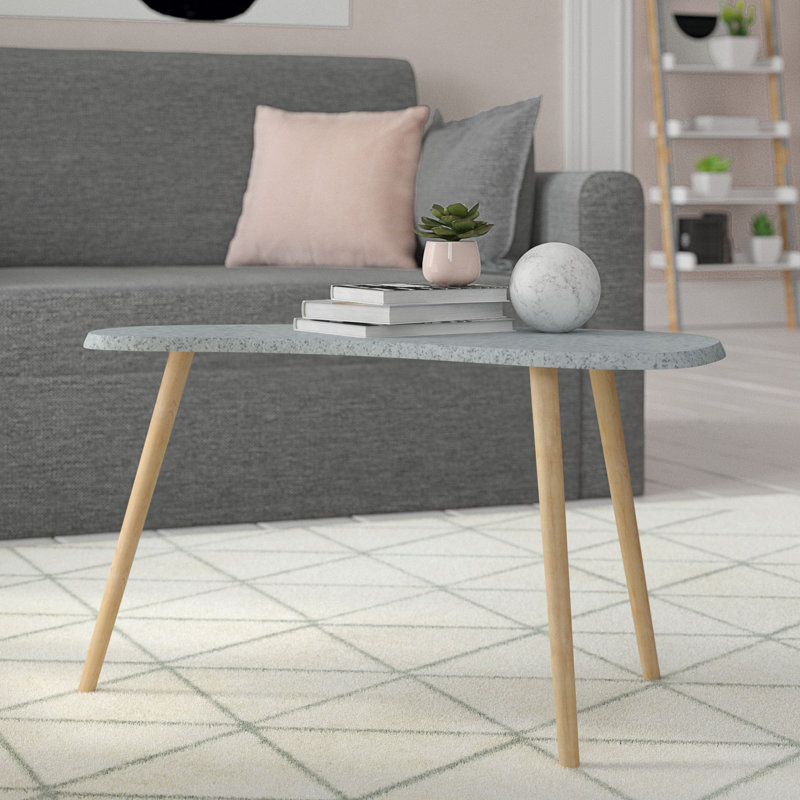 Having seen this living room side table, we decided that we had to take a closer look to see what it had to offer. As you can imagine, what caught our eye with this one is the incredibly unique design. The three wooden legs are made from natural wood which is a very nice touch.
What really caught our eye was the speckled grey kidney bean shaped table top. We had never seen a shape like this before on a living room side table. Whilst we did find that it looked very stylish in a modern living room, we didn't have the same results with the more traditional setting and found that it just didn't look right.
In terms of assembly, this side table is as simple as can be. It is simply a matter of screwing in the three legs. Much like the previous two on our list, this side table is very easy to clean with a damp cloth. The main issue that we had was trying to find the right place to position the table.
Because of its unique shape, we found it quite difficult to position it in corners or even against a wall. So, if you are limited on the amount of space that you have available for your living room side table then this might not be the best option for you.
Hopefully after taking a look through our reviews of our top three best living room side tables you now have a much better idea of the style and design that you want to go for.