If you often have guests come to stay at your home, then one of the things that you might find yourself struggling with is trying to find appropriate sleeping areas for everyone. If you have a spare room then you might find things easier, but not all of us have a spare room available.
There are multiple options that you can look into, in terms of sleeping areas for guests, but one of the best ideas is to invest in a single bed with guest trundle. These beds have a second single bed which is stored underneath.
The great thing about these types of beds is that you are able to store the bed away when it is not needed, and take it out either on it's own or to use as a double when you need it. They are great for safe saving purposes.
If you are looking for a single best with guest trundle, then there are plenty of designs to consider. So that we can minimise the time that it takes for you to find the right one for your needs, we have tested and reviewed our top three.
Please read on below to find out more information.
1. Airsprung Beds Falmouth Guest Bed – The Best Choice
Features: Solid Oak – Shaker Head & Foot End – Full Length Under Bed – Cinnamon Colour – 102cm H x 204.5cm L x 96.5cm W – 64.5kg
Pros:
Solid oak frame feels very sturdy.
Plenty of space on both single beds.
Trundle fits neatly underneath.
Traditional design.
Cons:
Instructions for assembly could be a little better.
The Review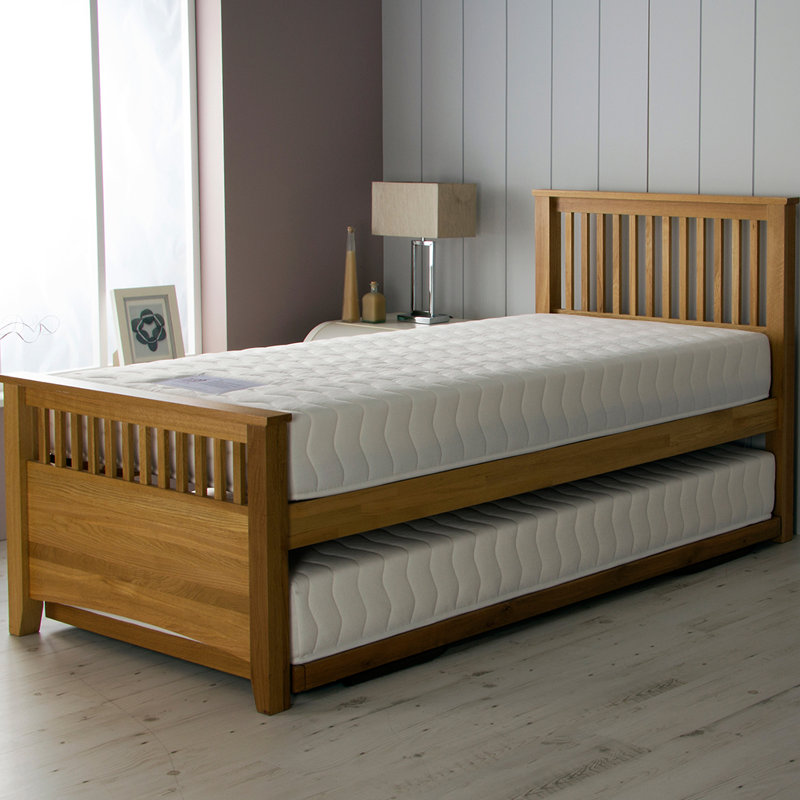 We chose this guest bed with trundle because it is made from solid oak. Having tested some solid oak beds before, we knew that this would be a very sturdy bed. After testing out the Falmouth Guest Bed from Airsprung Beds, we were very pleased with it.
The assembly process was relatively straight forward. It didn't really take us very long to put the entire frame and trundle together. The only issue that we did have is that the instruction manual could have been a little clearer. That aside, we found the process relatively easy.
One of the things that we really liked about the design of this bed is that it is quite traditional, yet would still suit a modern room too. The bed frame as well as the trundle is as solid as can be and the solid oak is of a very high quality.
With this bed you will need to purchase the mattresses separately and they will need to meet the height requirements for the trundle. This isn't a cheap guest bed by any means, but the quality certainly reflects the price tag. Overall, we were highly impressed.
2. Three Posts Scottdale Guest Bed
Features: Hevea Wood – Solid Headboard – Full Length Trundle Bed – Mattress Not Included – Assembly Required – 100cm H x 98.5cm L x 196.1cm W – 42kg
Pros:
Modern looking.
Sturdy wooden frame.
Easy to assemble.
Cons:
Mattress not included.
Slightly expensive for a basic design.
The Review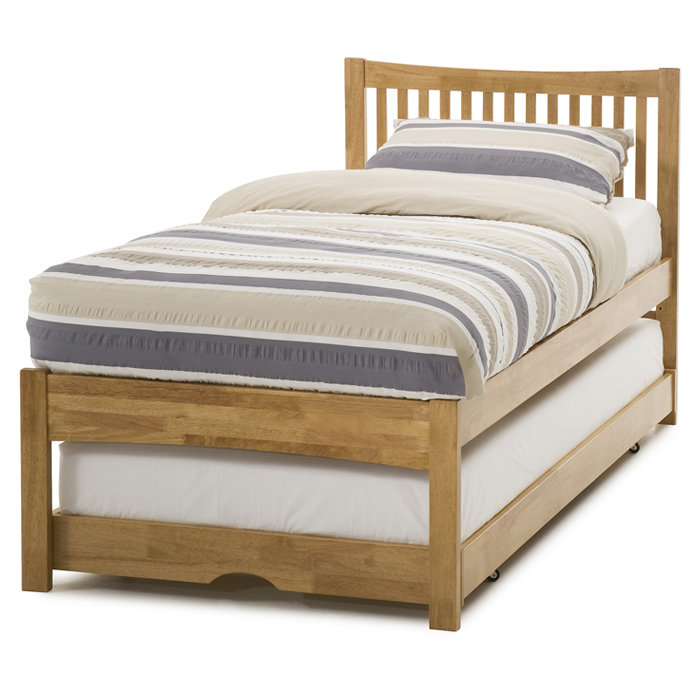 The thing that made us want to test and review this single bed with guest trundle is the fact that we liked the basic yet modern design. Made from Hevea wood, the frame is incredibly sturdy and really feels like it has been designed to last.
The trundle itself is full length and also feels very durable and fits neatly underneath the single bed. It doesn't stick out at all and is very easy to pull out when you are ready to use it. First of all, let's talk about the assembly process.
Upon first looking at all of the components we were a little worried that it might be quite difficult to put together but fortunately this wasn't the case. For speed purposes, we would recommend that two people take on the assembly.
In terms of space, we were actually surprised by how spacious the guest trundle feels. The only downside to this bed is that it doesn't come with any mattresses and considering the price tag, we felt that it would benefit from at least some basic ones. However, it is a very sturdy bed so we would recommend it.
1. Hazelwood Home Guest Bed with Trundle
Features: Hardwood Frame – Multiple Finishes Available – Headboard and Footboard – Assembly Required – Tools Included – 106cm H x 97cm L x 207cm W – 34kg
Pros:
Really nice modern design.
Tools are included.
Easy assembly.
Cons:
The frame isn't sturdy enough for regular use.
The Review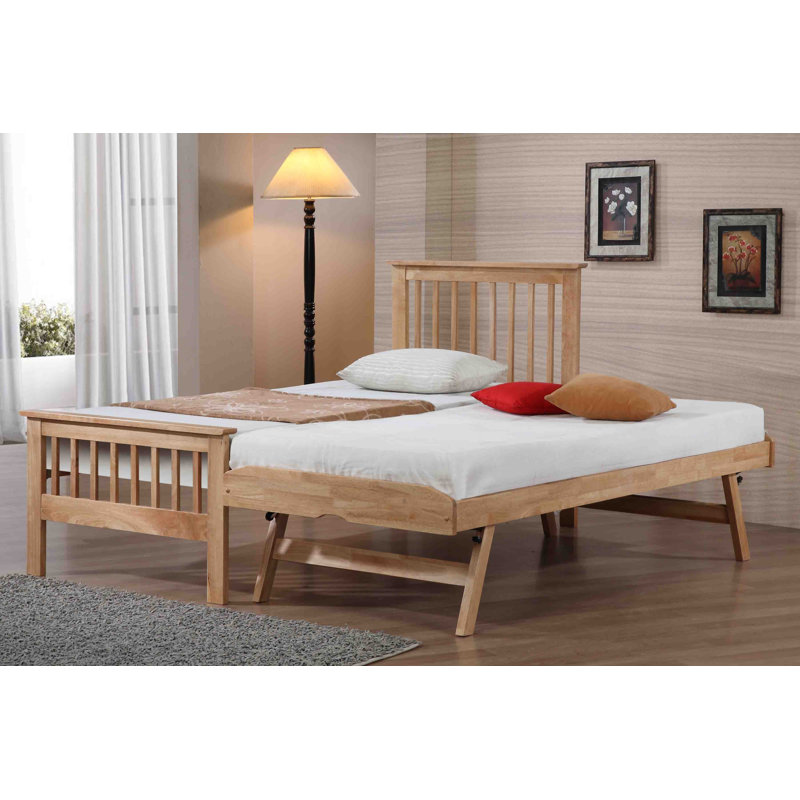 The thing that really caught our eye with this guest bed with trundle is the unique design. The frame has been designed to look very modern and really does look fantastic when it is put together.
The assembly process couldn't have been easier and one of the things that we really liked with this one is that the tools that you need to assemble the bed are actually included with it which was a nice touch.
We had the bed and trundle assembled relatively quickly and didn't encounter any problems. The frame and trundle frame is made from hardwood. Whilst this is high-quality, it is clear that the bed would not be suitable for regular use.
It doesn't feel very sturdy. For a relatively affordable guest bed, however, it is a great option to consider, especially if you are looking for something that is very modern in design.
We hope that you are now able to choose your favourite from these three single beds with guest trundle so that you can kit out your spare bedroom properly.